The Magic of Book Covers
It's no secret that I've been very fortunate when it comes to the cover designs of The Medoran Chronicles. All six covers are absolutely stunning, and as such, it's something I'm asked about quite frequently: "How did you end up with such gorgeous covers?"
Well, the short answer is, my publishers hired brilliant cover designers. The longer answer is that it took time and communication and a LOT of drafts. But all those things combined (plus a heap of talent from the designers) ended up creating pure magic.
Since the cover design process is one of my favourite parts of publishing, the wonderful team at our Sydney-based designers, XOU Creative, have given me permission to share how it all comes together. So here goes, from beginning to end — AKARNAE through to VARDAESIA!
First up, I should mention that it's my editor who sends cover briefs to the designers. After chatting with me about a vision and asking for any inspiration pics I might have (yay, Pinterest!), as well as talking with my publishers' sales and marketing teams, my editor then sends through ideas to the designers, including portions of text directly from the book/s. The designers are left to draft up a few different possibilities — "concepts" — which they then send to my editor. Often, I won't ever see these early concepts. It's only once a draft is considered as having potential that it'll come my way for feedback, sometimes with a few different options for me to decide between.
The first time I ever got to experience the excitement of cover design was for AKARNAE back in 2014 (for a 2015 release — covers are usually finalised 6-12 months before a book hits stores). I was sent two different concepts and asked my preference as to which path I'd prefer to go down:
The first cover was a bit too "Alice in Wonderland"-esque for me. It seemed a little juvenile for what I was after in my debut YA fantasy novel. The second cover, however, had the magic and wonder and mystery I was looking for, and I fell in love with it on sight. However, it still needed work — which is completely normal with cover designing, and also why I was brought into the conversation at this point.
One of my main concerns was that I felt as if Alex looked like she was some kind of middle-aged office executive. Her hair and clothes didn't imply teenager — she just looked way too stiff and mature. Thankfully, this ended up being a really easy fix by letting her hair out (literally) and changing her outfit. We played around with a few different clothing choices before settling on jeans and a leather-look jacket, resulting in this:
The above looks pretty close to the final version, right? Well, the funny thing about covers is how many suuuuuper small problems you can find right up until the very end. Case in point, if you look really close at the above image, you'll see that Alex has a ring — on her wedding finger. (#Awkward!) So little stuff like that was what we tweaked for the final few draft rounds, including changing the design of her hands and adding extra sparkles and things like that, until we hit the jackpot of the final version:
With AKARNAE done, RAELIA came next, about a year later. Of all the covers in this series, I didn't see many of the early concepts for book two until long after we'd locked in the final version. (I have them now, though, so can add them into this post.)
I had a really clear vision for RAELIA's cover in my head — I thought it'd be powerful to have a snow-covered forest with the mushroom-circled clearing, and a lot of the moodiness and mystery (and anguish) that comes from that final cliffhanger scene where you-know-what happens with you-know-who.
Unfortunately, I was told that all of the cover designs with snow and forests weren't coming up "magical" enough, so that was a bit disappointing and it meant I had to wipe my vision clear and open my mind to what else might be presented.
The problem was, apparently there were some issues whereby too many different opinions resulted in too many cover possibilities. Here are just a few of them that I saw down the track, all of which are gorgeous, but none of which really epitomised the feeling or content of the book. (Also note the snow ones, which are super pretty, but I can see what they meant about the lacking "magic" — and also ignore the title typo, which was obviously corrected later):
As you can see, none of the above concepts really have anything to do with the book, even if they are pretty. And, confession: I actually still really love the snow ones, haha. BUT that doesn't mean I'm not delighted with what ended up being the final version, with the city of Meya in the background, and the Silverwood trees as a feature:
Next up came DRAEKORA, and out of all the Medoran books, it was probably the easiest and the fastest cover to come together. Part of that was because we all had the same clear vision, which resulted in this being the first cover concept we received from the designer:
On the whole, we were all delighted with it. I absolutely LOVED that the floating islands were so obvious, though I did have concerns about the draekons being a spoiler. That said, it just looked so good that I was stoked. So then it was just a matter of playing with the colours — making it more vibrant overall, but also fixing up whatever was happening with the psychedelic flowers at the bottom. Plus, we wanted to see if we could add some extra elements, like details on some of the islands.
… Funnily enough, though, the next version came back perhaps a bit too extra:
You can see that it's definitely vibrant, but it's also a bit too OTT as well. There's just so much happening, and so many colours. It's like, "MY EYES, MY EYES!!"
So we had the designers tone things back a bit and even out the colours, and a few more back-and-forths resulted in the stunning beauty of the final version:
GRAEVALE was the next cover to come along, and similar to DRAEKORA, the early concepts came back really strong, with this being the first draft I saw:
I loved the moodiness of the colours and the city of Graevale being half in shadows, half in light, plus the storm added the sense of danger and mystery and just… ahh, so much love for this cover. But there were still some problems that needed ironing out — things like how the mist was blowing in one direction, while Alex's hair blew in the other direction, and things like lacking clarity and having an oil-painting/smeared appearance. Plus I still have no idea what was going on with her pants and why they were red… Nor do I know what the creepy black root things are, but I think they were meant to represent shadows… *shrugs*… 
Regardless, again, I absolutely LOVED this concept and I was so excited to see where it would end up. A few rounds later and we were at this: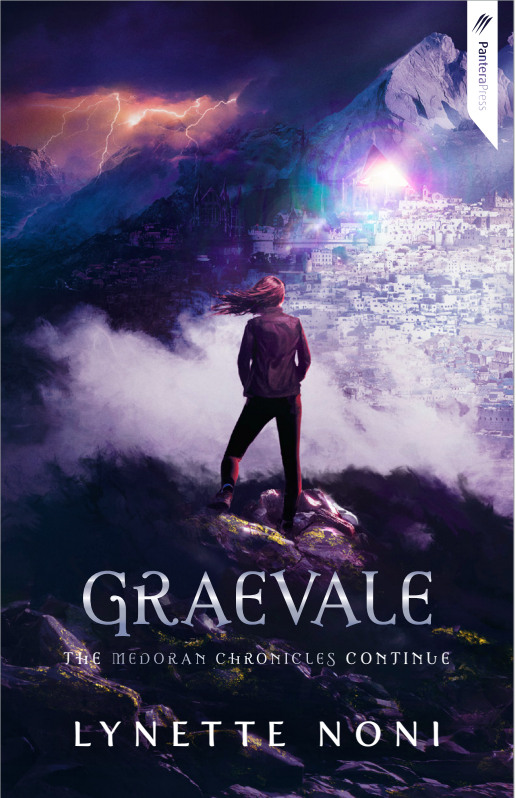 … And you can see that there's a lot more clarity as well as a number of other tweaks. But I still wasn't happy with her red pants, plus her hair seemed to have a mind of its own again (as in, it shouldn't have been that windy if the mist/cloud wasn't moving as fast)… plus, one VERY IMPORTANT THING was still missing: the sparkles!
All of those changes and then a few others led us to eventually reaching the gorgeous end result:
Next up came WE THREE HEROES, and this cover presented us with a whole slew of new problems. Previously, we'd only ever had Alex on the cover before, never D.C., Jordan or Bear. So the designers had their work cut out for them, creating not just a new cover, but three new characters.
Until VARDAESIA (which I'll get to in a moment), the cover for W3H was definitely the hardest. A lot of the problems, however, ended up not being the characters, but with the academy itself. It was surprisingly difficult to envision the school and how it would look. I mean, I'd always known it would be nestled in the middle of a forest and beside a lake, with a snow-capped mountain off in the distance, but the buildings themselves? "Medieval mixed with modern and advanced" is essentially the description the books give, but how, exactly, does that translate into design?
It was a mission, that's for sure, and the following covers show the drafting progression:
Above is the first concept that I saw. I loved the colours and the overall layout (even if my one small gripe is that the mountain (which is a bit strange-looking in this first draft) is actually meant to be on the other side of the lake — as in, off-screen behind where the characters are, but sometimes creative liberties must be taken!), but there was still room for improvement.
When it came to the characters, Bear needed the most work (basically an entire overhaul), but D.C.'s hair and clothes also needed some help, and Jordan's hair was too "high school jock" for my liking. These were all relatively easy fixes (aside from Bear, who took a number of drafts to get right), but the academy itself was the most challenging part. As you can see above, it looked very much like some kind of massive, gothic mini-city, and we had some trouble transforming it over the next few drafts…
This version above is a little better — Jordan's hair is a more normal, and D.C. looks more D.C.-like. I still had some problems with Bear (he now looked like a country bumpkin), but only small changes were needed for the other two at this stage.
As for the academy itself, you can see it's much better, but still too big. The mountain, at least, looked a lot more like a mountain, and the lake reflecting the sunset added a really nice effect, too. 
By this stage above, the designer was playing around with a few different ideas for the Arena and the Tower in the school. Again, he had a lot of trouble because I was struggling with what my vision of the academy was and how to communicate that, which left us with the colosseum-like structure above. On the plus side, Bear was beginning to look a lot more Bear-like, so I knew we were very close to getting where we all wanted to be.
A few more back-and-forths, and eventually we landed on the absolutely perfect end result that we now have, and I couldn't be happier with how it came together! Everything from the characters to the academy — it's spectacular!
Last but definitely not least, VARDAESIA, the final book in The Medoran Chronicles. Yikes, this book was HARD to get the perfect cover for — and that was because we wanted it to be "perfect". Every cover previously had kept getting better and better, so we knew the final book had to have the best one out of them all, and the more we tried for that to happen, the more impossible it became.
Here are some of the early concepts so you can see what I mean:
As you can see from the three drafts above, we started out trying to use the desert and the city of Vardaesia as the feature. But while all these are great, none of them "felt" like VARDAESIA to me. None of them felt right, none of them fit in with the series. And so, the designer then tried a different angle with what he came back with next:
At this point, I was grateful that we were trying something new, but I liked it less than the originals. I knew we could change the colours (since purple was too similar to GRAEVALE) but I just didn't connect with it at all, and certainly not for this book. It also felt too sci-fi for me — too "out there" and space-like. While gorgeous, it still didn't fit in with The Medoran Chronicles. And the same is true for what came next:
Honestly, I'm pretty sure everyone was ready to pull their hair out by this stage, especially since I was still really unable to connect with it. But what I knew of the book didn't relate to the above cover at all (or any of those previous), and so, with very little time left before my publishers needed to be feeding a finished cover out for sales and marketing, the designers went back to the drawing board and came up with this:
My relief was endless, since this clicked with me instantly. Like the previous books, I knew it needed some work to make it more magical, but we were definitely (finally) on the right track since I could see the potential for this and how stunning it could end up being.
… And I was right, because after a few more back-and-forths, we had the most perfect cover for the final book in the series:
There's a lot that I've left out in this post — a lot of the process that only my editor would know, a lot about the communication with the designers and how small changes happened that I'm not even aware of. Then there's the rest of the cover — the spine and the back — but that's a whole different kettle of fish, as they say. (Tangent: what does that saying even mean?)
The long and short of it is, I'm so beyond grateful to the wonderful designers at XOU Creative for coming up with the most perfect covers ever. I can't recommend them highly enough to anyone looking for designers across a whole variety of fields, so click here to find out more about them if that's something you're after!
And just to end, here's all the gorgeous final versions lined up side-by-side!
Subscribe To My Newsletter
Be the first to receive exclusive news, sneak previews, giveaways, and more!